VIVERA RETAINERS: PROTECTING YOUR SMILE INVESTMENT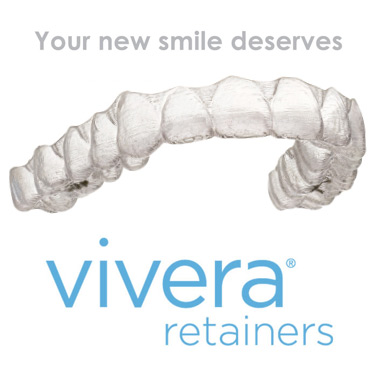 When you think about it, orthodontic treatments are really an investment in the future. Studies have shown that without proper retention, teeth can stubbornly shift back to their pre-corrected placement. That's why we recommend protecting your smile after orthodontic treatment by wearing Vivera retainers. This prevents your teeth from slipping back into their old position.
Why choose Vivera?
From the makers of Invisalign®, Vivera retainers are clear, comfortable plastic retainers made from the same durable materials used to create their state-of-the-art clear aligners. Moreover, Vivera retainers have been shown to be as much as 30% stronger than other leading brands. This means that they are less likely to crack, warp or break.
Clean and Clear
Superior Strength
Comfort with Technology
Convenient
Impeccable Fit. Solid Protection with a Clear Difference
Whether you wore Invisalign or traditional braces, Vivera retainers are custom-made to fit your teeth using the same leading edge scanning technology that creates their revolutionary clear aligners. Perfectly fitted, a Vivera retainer safely preserves your orthodontically corrected alignment.
Barakat Orthodontics is pleased to provide Vivera retainers to all patients entering the retention stage of orthodontic treatment. These custom-made retainers are molded from an impression or scan of your teeth, offering a precise fit and a more comfortable feel. Vivera retainers are a worry free way to prevent orthodontic relapse.